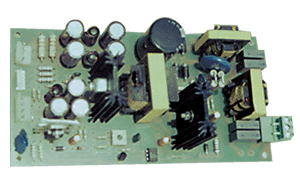 SALIENT FEATURES
1. High MTBF because of large derating and use of low loss active components.
2. Low ESR grade 105 deg. centigrade capacitors used.
3. Use of current control technology gives fast transient response and wide bandwidth.
4. Identical power supplies can be directly parallel hence redundant systems solutions can be offered. (Feature available in models of higher rating only)
5. Rugged double state I/P filter offers high noise immunity, a must for harsh industrial environment.
6. Features as thermal shutdown, over voltage protection and operation
from 3 phase 440 VAC can also be provided additionally.
DC - DC CONVERTERS I/P 24 V, 48 V DC
| | | | | | |
| --- | --- | --- | --- | --- | --- |
| MODEL | NO. OF O/P | CURRENT | TOTAL POWER | SIZE mm (LxBxH) | REMARK |
| 11 | 5 V | 5 A | 25 W | 120 x 70 x 45 | L Type |
| 12 | 5 V | 3 A | 25 W | 145 x 75x 45 | L Type |
| | 12 V | 5 A | | | |
| | -12 V | 5 A | | | |
| 13 | 5 V | 4 A | 50 W | 170 x 90 x 55 | U Type |
| | 12 V | 1.5 A | | | |
| | -12 V | 0.5 A | | | |